Pro/ENGINEER Wildfire 4.0 Books
Out of Print
Published March 1, 2009
167 pages
Mechanism Design with Pro/ENGINEER Wildfire 4.0 is designed to help you become familiar with Mechanism Design, a module in the Pro/ENGINEER software family, which supports modeling and analysis (or simulation) of mechanisms in a virtual (computer) environment. The book is written following a project-based learning approach and is...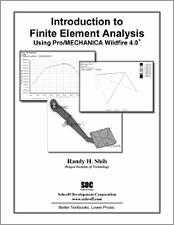 Out of Print
Published February 2, 2009
425 pages
The primary goal of Introduction to Finite Element Analysis Using Pro/MECHANICA Wildfire 4.0 is to introduce the aspects of finite element analysis that are important to engineers and designers. Theoretical aspects of Finite Element Analysis (FEA) are also introduced as they are needed to help better understand the operations. The primary...
Out of Print
Published July 8, 2008
294 pages
Pro/ENGINEER Wildfire 4.0 Mechanica Tutorial (Structure/Thermal) introduces new users to finite element analysis using Pro/ENGINEER Mechanica and how it can be used to analyze a variety of problems. The tutorial lessons cover the major concepts and frequently used commands required to progress from a novice to an intermediate user level....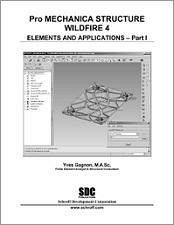 Out of Print
Published May 22, 2008
204 pages
This book is written for industry designers and engineering students with limited knowledge of finite element analysis. The intent of this book is to introduce the learner to FEA concepts and proper CAD techniques in order to be able to get satisfactory results in the designer's models. It will give you a basic understanding of what you...