Pro/ENGINEER Wildfire 3.0 Books
Out of Print
Published May 1, 2008
162 pages
Mechanism Design with Pro/ENGINEER Wildfire 3.0 is designed to help you become familiar with Mechanism Design, a module in the Pro/ENGINEER software family, which supports modeling and analysis (or simulation) of mechanisms in a virtual (computer) environment. The book is written following a project-based learning approach and is...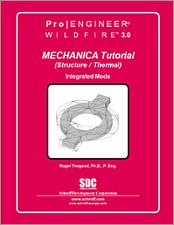 Out of Print
Published June 26, 2006
280 pages
This textbook is written for first-time FEA users (in general) and MECHANICA users (in particular). After a brief introduction to finite element modeling, the tutorial introduces the major concepts behind the use of Pro/MECHANICA to perform Finite Element Analysis of parts. These include modes of operation, element types, design studies...