Hand Sketching Books
Published March 31, 2014
Beginner
369 pages
Designed specifically for interior design students new to hand sketching
Contains a reference book, an activity sketchbook and video instruction
Both books are spiral bound to make sketching easier
The second edition has been revised and expanded to include new material
Published April 25, 2013
Beginner
157 pages
Designed to develop your student's hand-sketching skills
Topics covered include plans, elevations, sections, 3D illustrations, bubble diagramming and information graphics
Illustrated using full color graphics
Out of Print
Published March 5, 2012
Beginner
300 pages
Designed specifically for interior design students new to hand sketching
Contains a reference book, an activity sketch book and video instruction
Both books are spiral bound to make sketching easier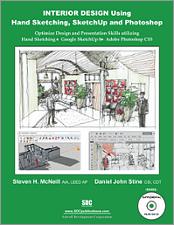 Published March 14, 2011
Beginner
552 pages
This book is designed for the interior designer wanting to use hand sketching techniques, Google SketchUp, and Adobe Photoshop together to create beautiful designs and presentations. This book will teach you how to come up with fresh new design ideas and how to save time by using these powerful tools and techniques. This book...
Published March 11, 2009
Beginner
400 pages
Chapters in Architectural Drawing provides an introduction to the fundamental principles needed to create compelling freehand and hard line drawings. Using the graphics, instructions, sketching exercises, and the included videos the reader will learn the techniques used by architectural professionals to visually communicate ideas and...