Chef Dominic Hawkes MCGB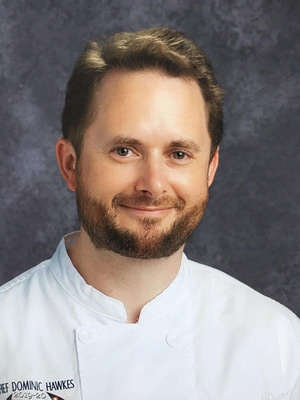 Biography
Dominic Hawkes is a Master Chef of Great Britain with over 29 years of experience in the food service industry. He began his culinary journey in London's finest hotels, including the Ritz, Radisson Edwardian & Prince Regent, and the Dubai International Aerospace Show. With a diploma in culinary arts, food hygiene, and certification in nutrition & health, and wines & spirits, Dominic later completed a bachelor's degree in business studies, majoring in hospitality studies.
After working for Bank of America's Corporate Food Services, Dominic became the Food & Beverage Director at Charlotte City Club, where he worked for 19 years before transitioning into teaching Culinary Arts. Since 2019, he has been teaching at the Lancaster County School District Career Center in South Carolina, where he is certified to teach and proctor four certifications by the National Restaurant Association, including ProStart Culinary & ServSafe.
Dominic's commitment to education is exemplified by his successful efforts in 2022 when he and the Lancaster County School District Career Center became the first secondary school in the Carolinas to receive American Culinary Federation accreditation, certifying students with the coveted Certified Fundamentals Cook (CFC) designation.
Dominic's dedication to his students was further highlighted during the 2020 pandemic lockdowns when he swiftly adapted his classes to an online platform. Since then, he has shared his valuable insights with audiences worldwide through his popular YouTube channel, Chef Hawkes. His tireless efforts in the culinary arts also earned him multiple accolades at the state and national levels, including his victory at the Carolina Classic Cook-Off and being featured on PBS Charlotte (WTVI).
Dominic is happily married to his awesome art teacher wife Courtney of 20+ years and has two amazing children, Jack & Tate. (Who followed different paths in Career & Technical Education (CTE) in high school too.)
Books by Chef Dominic Hawkes MCGB
Showing 1 - 2 of 2
Published January 18, 2023

ISBN 978-1-63057-574-8

Published January 18, 2023

ISBN 978-1-63057-545-8