CATIA V5 Release 17 Books
Out of Print
Published July 11, 2008
Beginner
412 pages
An Introduction to CATIA V5 Release 17 is a collection of tutorials meant to familiarize the reader with the mechanical design workbenches that are available in CATIA Release 17. The reader is not required to have any previous CATIA knowledge. The workbenches covered in this book are; Sketcher, Part Design, Wireframe and Surface Design,...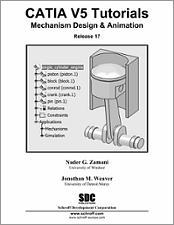 Out of Print
Published February 18, 2008
Intermediate
494 pages
CATIA V5 Tutorials Mechanism Design and Animation Releases 17 is composed of several tutorial style lessons. This book is intended to be used as a training guide for those who have a basic familiarity with part and assembly modeling in CATIA V5 Release 17 wishing to create and simulate the motion of mechanisms within CATIA Digital Mock Up...
Out of Print
Published August 15, 2007
Beginner
523 pages
This workbook is an introduction to the main Workbench functions CATIA V5 has to offer. The book's objective is to instruct anyone wanting to learn CATIA V5 through organized, graphically rich, step-by-step instructions on the software's basic processes and tools. This book is not intended to be a reference guide.