CAM Books
Published August 27, 2021
Beginner - Intermediate
198 pages
Teaches you how to prevent problems, reduce manufacturing costs, shorten production time, and improve estimating
Designed for users new to CAMWorks with basic knowledge of manufacturing processes
Covers the core concepts and most frequently used commands in CAMWorks
Incorporates cutter location data verification by reviewing the generated G-codes
Published July 28, 2021
Beginner - Intermediate
290 pages
Teaches you how to prevent problems, reduce manufacturing costs, shorten production time, and improve estimating
Covers the core concepts and most frequently used commands in SOLIDWORKS CAM
Designed for users new to SOLIDWORKS CAM with basic knowledge of manufacturing processes
Incorporates cutter location data verification by reviewing the generated G-codes
Includes a chapter on third-party CAM Modules
Published July 16, 2020
Beginner - Intermediate
198 pages
Teaches you how to prevent problems, reduce manufacturing costs, shorten production time, and improve estimating
Designed for users new to CAMWorks with basic knowledge of manufacturing processes
Covers the core concepts and most frequently used commands in CAMWorks
Incorporates cutter location data verification by reviewing the generated G-codes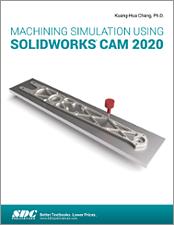 Published July 15, 2020
Beginner - Intermediate
288 pages
Teaches you how to prevent problems, reduce manufacturing costs, shorten production time, and improve estimating
Covers the core concepts and most frequently used commands in SOLIDWORKS CAM
Designed for users new to SOLIDWORKS CAM with basic knowledge of manufacturing processes
Incorporates cutter location data verification by reviewing the generated G-codes
Includes a chapter on third-party CAM Modules
Published June 14, 2019
Beginner - Intermediate
288 pages
Teaches you how to prevent problems, reduce manufacturing costs, shorten production time, and improve estimating
Covers the core concepts and most frequently used commands in SOLIDWORKS CAM
Designed for users new to SOLIDWORKS CAM with basic knowledge of manufacturing processes
Incorporates cutter location data verification by reviewing the generated G-codes
Includes a chapter on third-party CAM Modules
Out of Print
Published May 31, 2019
Beginner - Intermediate
198 pages
Teaches you how to prevent problems, reduce manufacturing costs, shorten production time, and improve estimating
Designed for users new to CAMWorks with basic knowledge of manufacturing processes
Covers the core concepts and most frequently used commands in CAMWorks
Incorporates cutter location data verification by reviewing the generated G-codes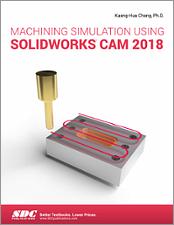 Out of Print
Published February 19, 2019
Beginner - Intermediate
286 pages
Teaches you how to prevent problems, reduce manufacturing costs, shorten production time, and improve estimating
Covers the core concepts and most frequently used commands in SOLIDWORKS CAM
Designed for users new to SOLIDWORKS CAM with basic knowledge of manufacturing processes
Incorporates cutter location data verification by reviewing the generated G-codes
Includes a chapter on third-party CAM Modules
Out of Print
Published March 14, 2018
Beginner - Intermediate
192 pages
Designed for users new to CAMWorks with basic knowledge of manufacturing processes
Covers the core concepts and most frequently used commands in CAMWorks
Incorporates cutter location data verification by reviewing the generated G-codes
Teaches you how to prevent problems, reduce manufacturing costs, shorten production time, and improve estimating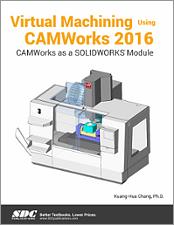 Out of Print
Published March 31, 2017
Beginner - Intermediate
170 pages
Designed for users new to CAMWorks with basic knowledge of manufacturing processes
Covers the core concepts and most frequently used commands in CAMWorks
Incorporates cutter location data verification by reviewing the generated G-codes
Teaches you how to prevent problems, reduce manufacturing costs, shorten production time, and improve estimating
Out of Print
Published November 15, 2005
Beginner
218 pages
GibbsCAM Tutorial has 19 exercises for production mill, production mill with solids import, and lathe users. The exercises cover the following topics: Creating Geometry Importing 2D and 3D CAD Geometry The CAM Process Setting up Tools Creating Machining Operations...
Out of Print
Published April 1, 2005
Intermediate
98 pages
This is a tutorial manual for the beginning user of Pro/MANUFACTURING Wildfire 2.0. The manual assumes the user has a basic working knowledge of Pro/ENGINEER. It begins with a simple click-by-click procedure to perform a volume milling sequence for the beginner to gain a basic familiarity with the manufacturing module. The manual includes a...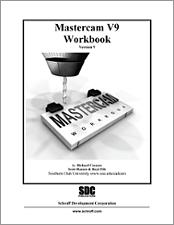 Out of Print
Published December 31, 2002
Beginner
306 pages
This purpose of this workbook is to give new users a basic introduction to Mastercam's functionality and features. Topics covered include creating models using Mastercam, importing geometry from other CAD packages, setting up a job, and creating facing, contouring, pocket, drill/surface, and lathe toolpaths. This book is not intended to be...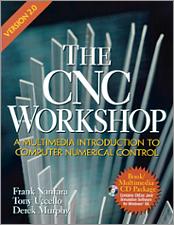 Out of Print
Published May 1, 2002
Beginner
378 pages
The CNC Workshop workbook is designed to introduce students to CNC and provide them with an opportunity to learn and practice at their own pace. The CBT and software, CNC Workshop with TORCOMP CNCez Java Edition, enforces important concepts and allows students to create CNC programs and test them in a simulated manufacturing environment....