Autodesk Inventor Books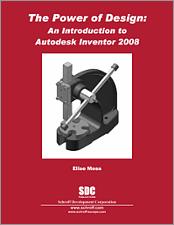 Out of Print
Published May 1, 2007
310 pages
For users familiar with Inventor R10 or earlier releases, the 2008 release concentrates on refining and improving the software. This book is meant for beginning users who want to gain a familiarity with the tools and interface of Inventor before they start exploring on their own. By the end of the text, the user should feel comfortable...
Out of Print
Published March 18, 2007
381 pages
This textbook contains a series of ten tutorial style lessons designed to introduce Autodesk Inventor, solid modeling, and parametric modeling. It uses a hands-on, exercise-intensive approach to all the import parametric modeling techniques and concepts. The lessons guide the user from constructing basic shapes to building intelligent solid...