Book Errata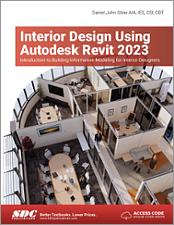 Introduction to Building Information Modeling for Interior Designers
Published August 24, 2022
840 Pages
ISBN: 978-1-63057-513-7
View Errata

Submit Errata
Errata
Chapter 1 Page 36

Autodesk has replaced Autodesk 360 (A360) with Autodesk Drive. The functionality covered in the book is similar in Autodesk Drive. Following the links provided in the book will provide you with a link to the new site. Alternatively, use this link to access Autodesk Drive: https://drive.autodesk.com/

Chapter 4 Page 33

Step 49c and Figure 4-3.16 show the incorrect RGB values for 'G' (green). It should be 224. Not 226 as shown in the book. See the image below.

Chapter 10 Page 17

Step #2 of Downloading Casework Content, should read:

"Go to Architects ➜ Revit/CAD -- Casework, click on the MAILCENTER SEPT 2016 options, and then click Download All Revit Blocks to download this file (70+mb): Modular Casework - May 2022.zip"
Submit Errata
Your information will remain private. We will only use your information if we need to contact you for further details regarding the correction you submit.