ANSYS Books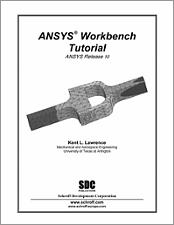 Out of Print
Published December 15, 2005
230 pages
The exercises in the ANSYS Workbench Tutorial introduce the reader to effective engineering problem solving through the use of this powerful modeling, simulation and optimization tool. Topics that are covered include solid modeling, stress analysis, conduction/convection heat transfer, thermal stress, vibration and buckling. It is designed...
Out of Print
Published December 15, 2005
186 pages
The nine lessons in this book introduce the reader to effective finite element problem solving by demonstrating the use of the comprehensive ANSYS FEM software in a series of step-by-step tutorials. Topics covered include problems involving trusses, plane stress, plane strain, axisymmetric and three-dimensional geometries, beams,...