Marie P. Planchard CSWP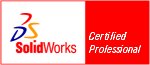 Biography
Marie Planchard is the Director of World Education Markets at DS SolidWorks Corporation.
Before she joined SolidWorks, Marie spent over 10 years as an engineering professor at Mass Bay College in Wellesley Hills, MA. She has 14 plus years of industry software experience and held a variety of management and engineering positions.
Marie holds a BSME, MSME and a Certified SolidWorks Professional (CSWP) Certification. She is an active member of the American Society of Mechanical Engineers (ASME) and the American Society for Engineering Education (ASEE).
Books by Marie P. Planchard CSWP
Showing 1 - 20 of 41
Out of Print

Published March 15, 2013

ISBN 978-1-58503-824-4

Out of Print

Published February 27, 2013

ISBN 978-1-58503-780-3

Out of Print

Published February 1, 2013

ISBN 978-1-58503-779-7

Out of Print

Published January 8, 2013

ISBN 978-1-58503-777-3

Out of Print

Published December 21, 2012

ISBN 978-1-58503-771-1

Out of Print

Published November 14, 2012

ISBN 978-1-58503-753-7

Out of Print

Published June 22, 2012

ISBN 978-1-58503-708-7

Out of Print

Published April 27, 2012

ISBN 978-1-58503-712-4

Out of Print

Published March 8, 2012

ISBN 978-1-58503-706-3

Out of Print

Published February 17, 2012

ISBN 978-1-58503-702-5

Out of Print

Published January 27, 2012

ISBN 978-1-58503-697-4

Out of Print

Published January 5, 2012

ISBN 978-1-58503-695-0

Out of Print

Published June 2, 2011

ISBN 978-1-58503-658-5

Out of Print

Published March 16, 2011

ISBN 978-1-58503-656-1

Out of Print

Published February 28, 2011

ISBN 978-1-58503-629-5

Out of Print

Published February 16, 2011

ISBN 978-1-58503-631-8

Out of Print

Published January 12, 2011

ISBN 978-1-58503-623-3

Out of Print

Published December 10, 2010

ISBN 978-1-58503-621-9

Out of Print

Published June 7, 2010

ISBN 978-1-58503-564-9

Out of Print

Published April 6, 2010

ISBN 978-1-58503-571-7